Welcome!

Our purpose is to bring energies to Earth which are aligned with the numerical signatures of the 26 star systems participating in

Earth's Ascension process.

The energies are channeled into magical multidimensional art

pieces, jewelry, and "toys" called "Universal Systems Generators"

that actually are tools for transformation, healing, prosperity,

peace, or practically anything you can think of.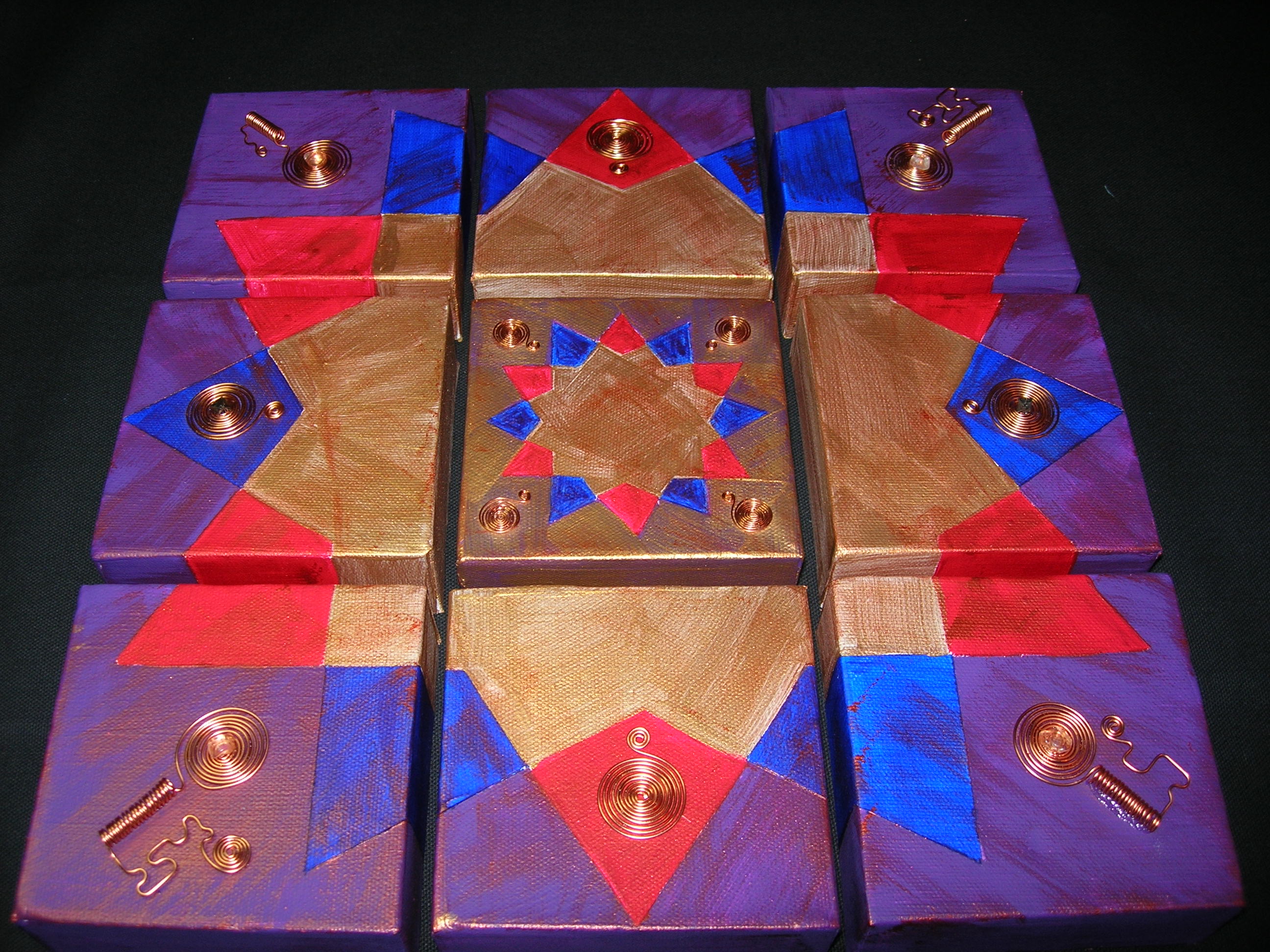 COPPER GENERATORS
Available as jewelry pieces of wearable art, & individual 4" x 4" canvasses, these copper spirals and coils have been created to power and enhance the new energies coming into our planet. Each channeled piece has been made by hand, incorporating energies sent from the galaxies of the universe.
While all of these copper pieces work on many levels and are designed to generate and circulate energy, each unique handmade piece is also intended to work with specific points on the physical, mental or emotional body as well as the body's outer energy fields to bring about healing. In addition, they assist in making the body & the planet more receptive to the various energy upgrades now available for the ascension process.
These pieces will bring through higher frequencies that are needed and wanted by

the individual using them, and for the earth itself, through the individual.

Be in the unknown and experience wonder!
PROSPERITY TOY
from Arcturus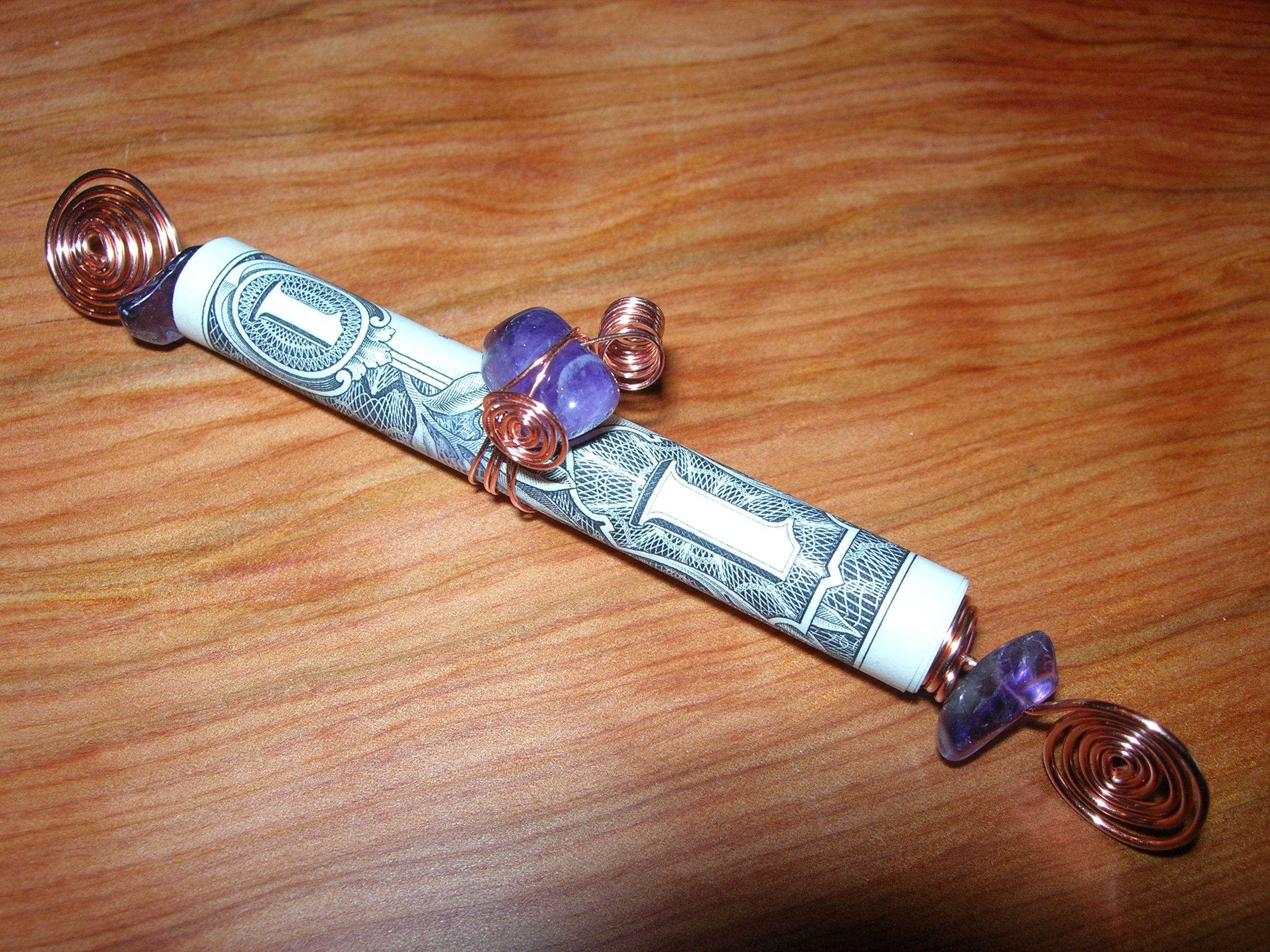 (Copper wire, quartz or amethyst beads, uncirculated US $1 bill)

Assists with link up of energy flow of abundance & financial prosperity!
$22-25
How to use & purchase the Prosperity Toy
BRACELETS
Bracelets are constructed in a copper coil format, which helps to transmit and conduct

the frequencies channeled to the bracelet. The tube inside the bracelet contains pristine

ingredients from Prince William Sound in Alaska to help anchor in the frequencies.

It is sealed by magnets which are used as the clasp for the bracelet.
Financial Fabulosity
This bracelet combines the energy of regeneration with an alignment channeled to

increase your financial flow. It acts harmoniously within your energy field to

circumvent resistance to receiving financial success.
Fits wrist sizes 6", 7" & 8" (allow ½ inch for comfortable fit) $55
The Regenerator
This bracelet works with your own energetic frequencies to assist with healing
& regeneration.
Fits wrist sizes 6", 7" & 8" (allow ½ " for comfortable fit) $50
NECKLACES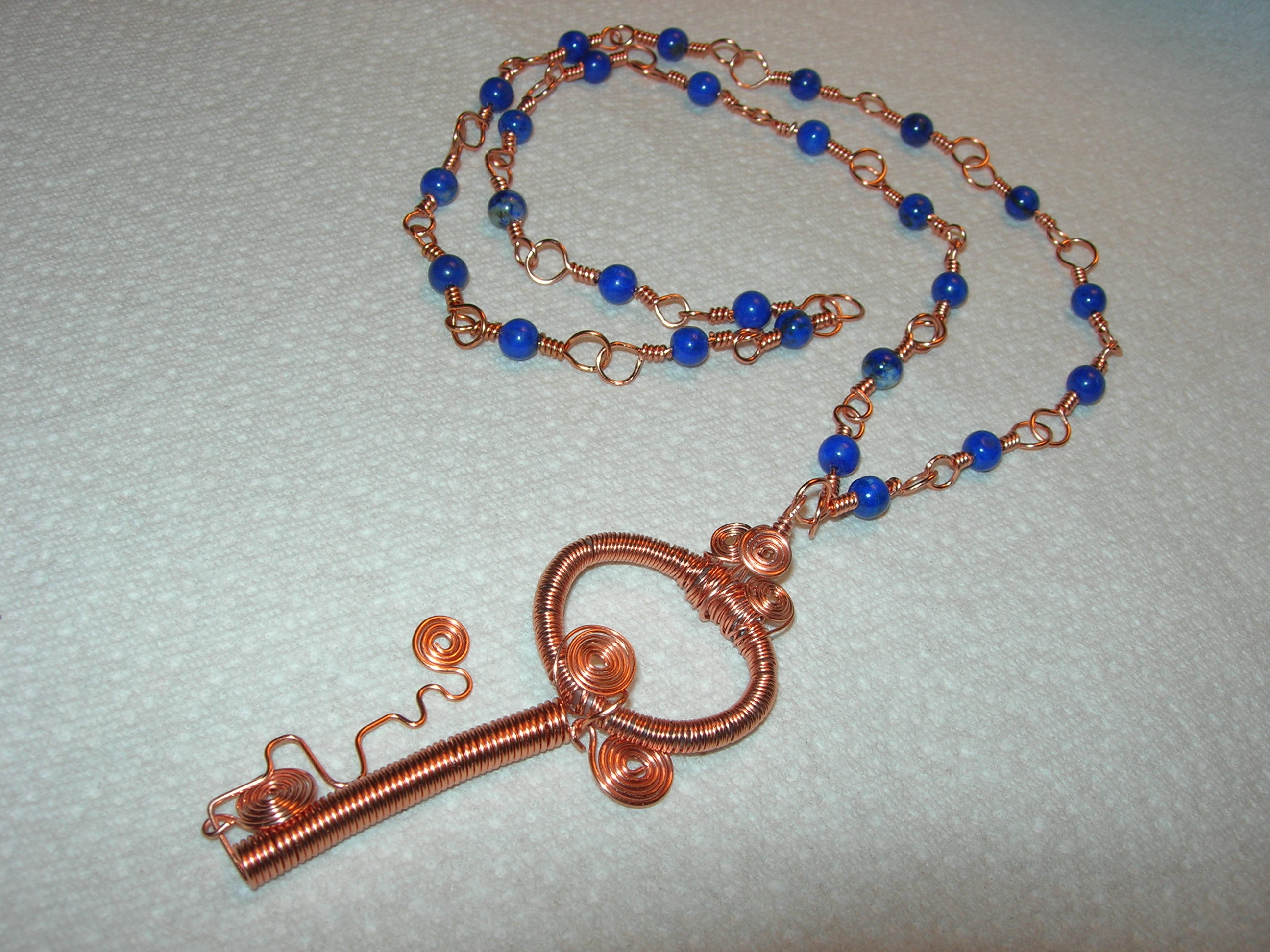 (Hand made copper links with lapis lazuli beads, with channeled energy symbol attached)
"Key to Abundance & Prosperity"
Necklaces may be special ordered, and might combine specific stones, copper symbols or shapes on a 16 inch-36 inch handmade copper link chain, specifically channeled for the client. $75-125, depending on chain length requested & stones included. Email for quotes.

CROWNS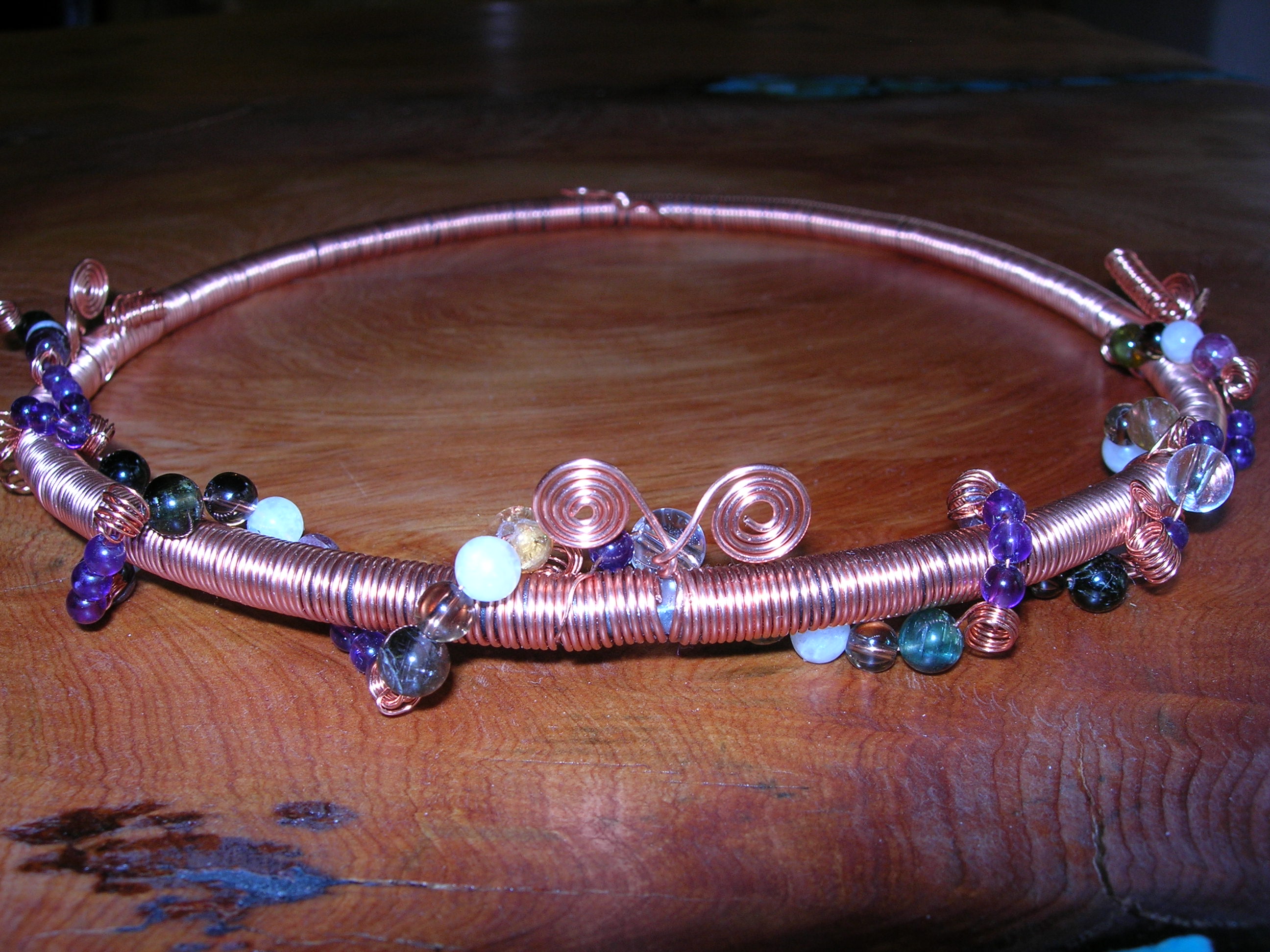 Featured: 20" Crown with magnetic coil base, with additional garland of amethyst,

tourmaline, smoky quartz & clear quartz

If you are doing special work and require assistance to transmit or receive frequencies, or even just want an enhanced meditation, a crown may assist

you with this. Primarily, they are energy balancers.

They are also beautiful pieces of jewelry. The crown base is

the same copper coil construction, with the addition of specific crystals, semi-precious beads, or wire symbols, specifically

channeled for the client. $145-$245
Princess Crown 21" (magnetic copper coil studded with amethyst,

freshwater pearl, quartz, and copper coil enhancements)

For enhancing and working with manifestation of all kinds,
including prosperity & abundance (Arcturian energies). SOLD.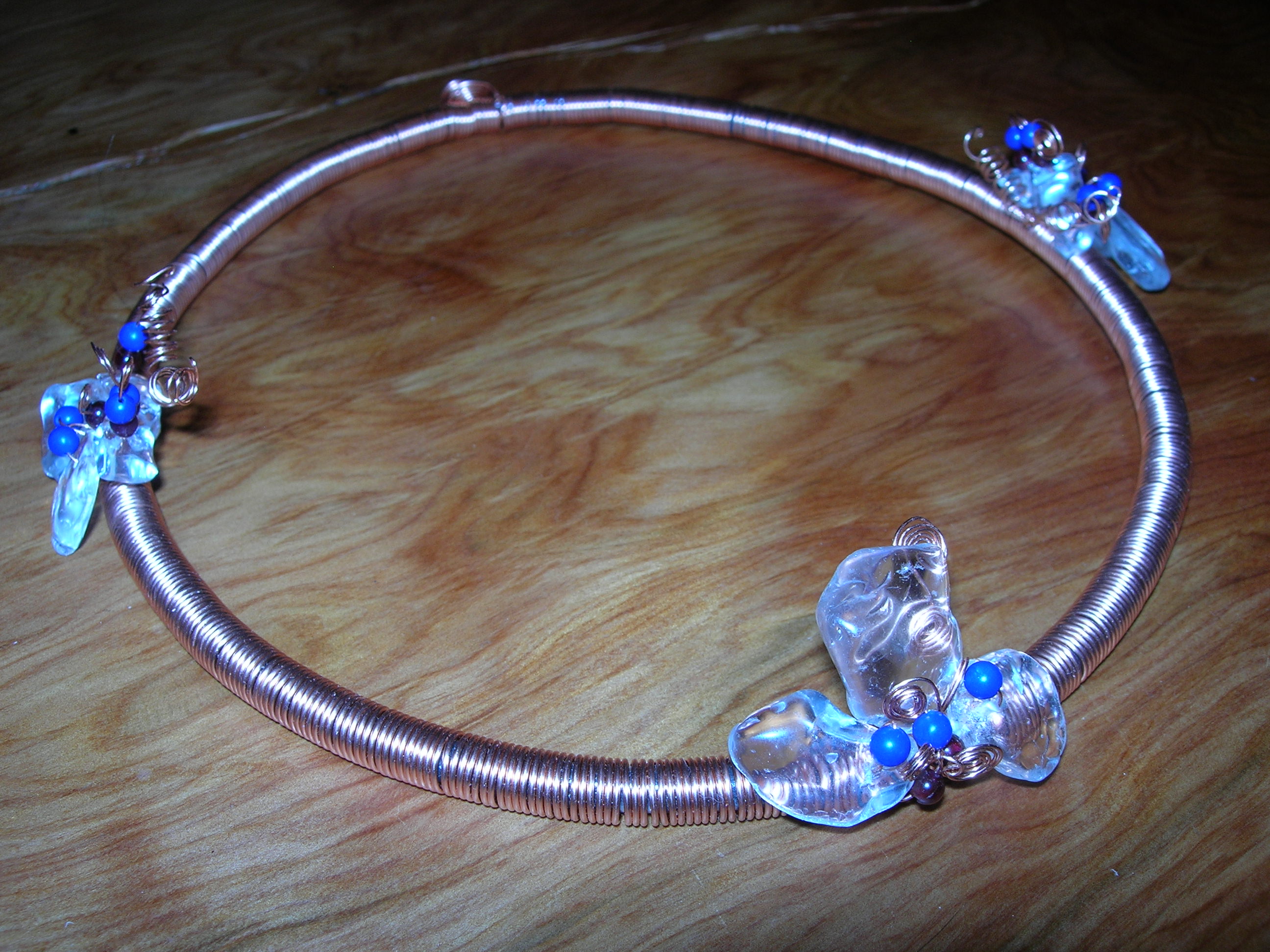 Crown of the Elementals 20" (Copper Coil, Tumbled quartz pieces,

garnet & lapis lazuli beads) For enhancement of manifesting energies;

also assists in working with the Elemental Kingdoms (Arcturian energies). SOLD.

COPPER GENERATORS ON CANVAS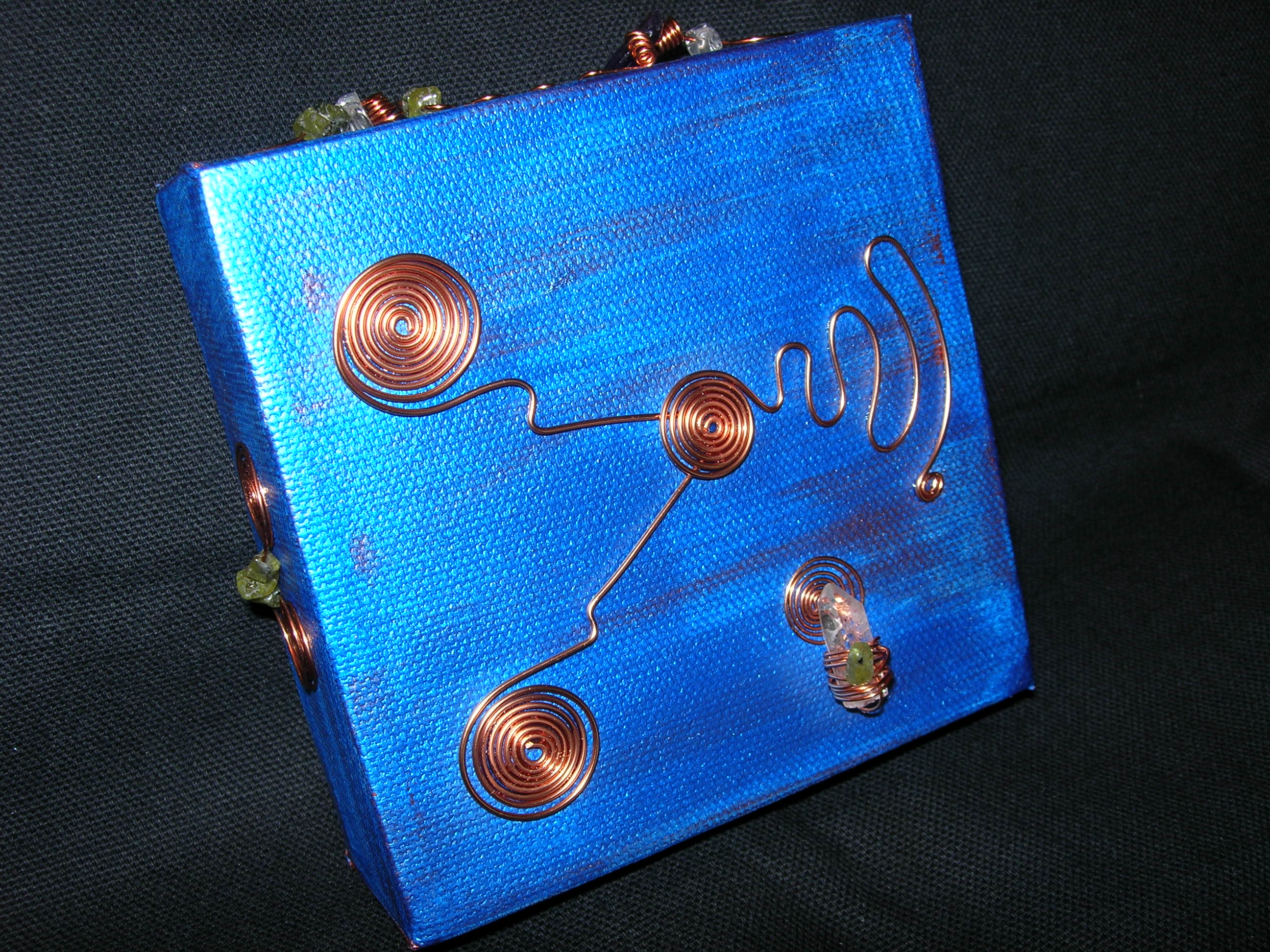 A few people have pointed out that these little coppery creations are

reminiscent of some of the elements present in crop circles!

20 & 24 gauge copper spirals, coils, and natural stone beads have been applied to a

canvas. Place this in the healing corner of your home or office, on your home altar,

meditation space, or other areas where you would like to enhance & circulate positive

energy.
Custom channeled orders also available.
All prices include domestic (U.S.) postage & handling.
Kathleen's generators & toys are available for purchase online,
& at
Rainbow Stew
55509 29 Palms Highway, Yucca Valley, CA